Black hole brings down curtain on jellyfish galaxy's star turn
Royal Astronomical Society press release
RAS PR 19/16 NAM7
3 July 2019

The role of an excited black hole in the death of an exotic 'jellyfish' galaxy will be presented today (3 July) by Callum Bellhouse of the University of Birmingham at the RAS National Astronomy Meeting in Lancaster. The supermassive black hole at the centre of jellyfish galaxy JO201 is stripping away gas and throwing it out into space, accelerating suppression of star formation and effectively 'killing' the galaxy.
Jellyfish galaxies are spectacular objects that undergo a dramatic process of transformation as they plunge through the dense core of a galaxy cluster at supersonic speeds. External drag forces tear away the galaxy's gas, in a process known as ram-pressure stripping, leaving extended tentacles of trailing material.
The fate of JO201 has been revealed as part of a study of 114 jellyfish galaxies by the GASP (GAs Stripping Phenomena) collaboration, an international team of researchers led by Dr Bianca Poggianti.
To explore the structure of the jellyfish galaxies in 3D and estimate the timescales of their transformation, Bellhouse has createdinteractive models that can also be experienced in virtual reality.
The study shows that JO201, originally a large spiral galaxy, has been diving through the massive cluster Abell 85 at supersonic speeds for around a billion years. As the jellyfish galaxy is travelling along the line of sight, its tentacles appear foreshortened in the model, but the team estimates that they trail 94 kiloparsecs behind JO201 -- about three times the diameter of our Milky Way.
"A galaxy sustains itself by constantly forming new stars from gas, so understanding how gas flows into and out of a galaxy helps us learn how it evolves. The example of JO201 shows how the balance tips towards then away from star-formation as it plunges through the galaxy cluster and faces increasingly extreme stripping of its gas," said Bellhouse.
JO201's transformation into a jellyfish galaxy has caused a brief increase in star formation due to the ram-pressure stripping process. Compressed clouds of gas have collapsed and formed a ring of stars in the disk of the galaxy. Dense knots in tentacles have condensed like rainclouds to begin forming new stars in the galaxy's wake.
However, the over the last few hundred million years, the black hole appears to have ripped away gas to leave a large void around the centre of the galaxy disc. The team believes that the ram-pressure stripping may have funnelled gas into the central parts of the galaxy, where it has provoked the black hole into blasting out material and creating a shock-wave that has left a cavity behind.
"An important balancing act occurs between processes which either boost or diminish the star formation rate in jellyfish galaxies. In the case of JO201, the central black hole becomes excited by the ram-pressure stripping and starts to throw out gas. This means that the galaxy is being hollowed out from the inside, as well as torn away from the outside," said Bellhouse.
"JO201 is, so far, a unique example of a supermassive black hole and ram-pressure stripping in quenching star formation in a jellyfish galaxy. Studying these curious objects gives us an insight into the complex processes that galaxies experience," said Bellhouse.
Interactive models
An interactive visualisation showing a 3D model of the distribution of stars and gas in the Jellyfish Galaxy JO201/JW100/JO194. The model is made using the spatial distribution of stars and gas on the sky, with the velocity along the line-of-sight giving the depth. Red=Hydrogen, Blue=Nitrogen, Green=Oxygen, White=stars. Credit: Callum Bellhouse and the GASP collaboration.
JO201: https://sketchfab.com/3d-models/3fb078406b6648a08f34869e7029fc3f
JW100: https://skfb.ly/6LyYp
JO194: https://skfb.ly/6LyY6
Images
Jellyfish galaxy JO201. Credit: Callum Bellhouse and the GASP collaboration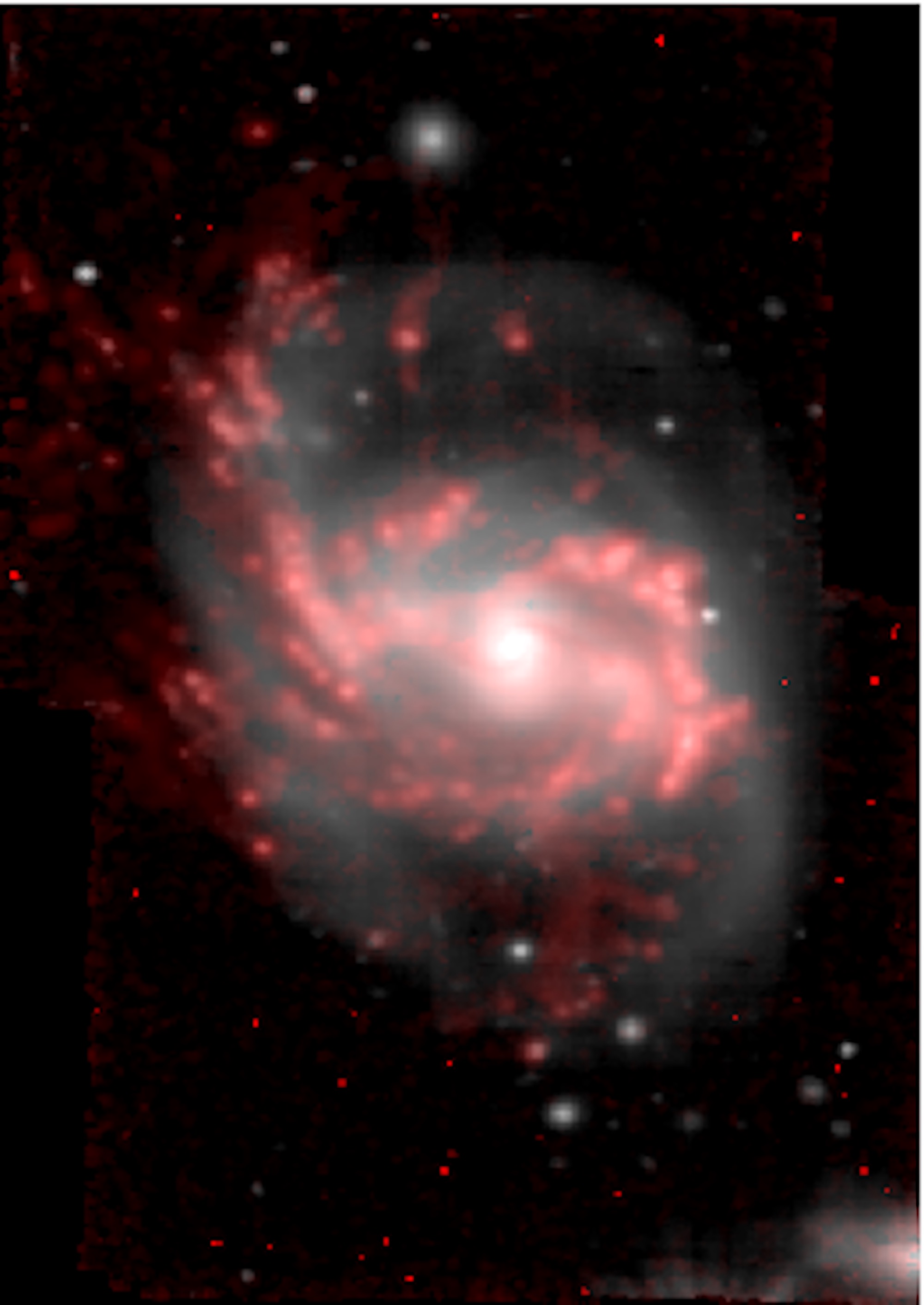 Jellyfish galaxy JO201. Credit: Callum Bellhouse and the GASP collaboration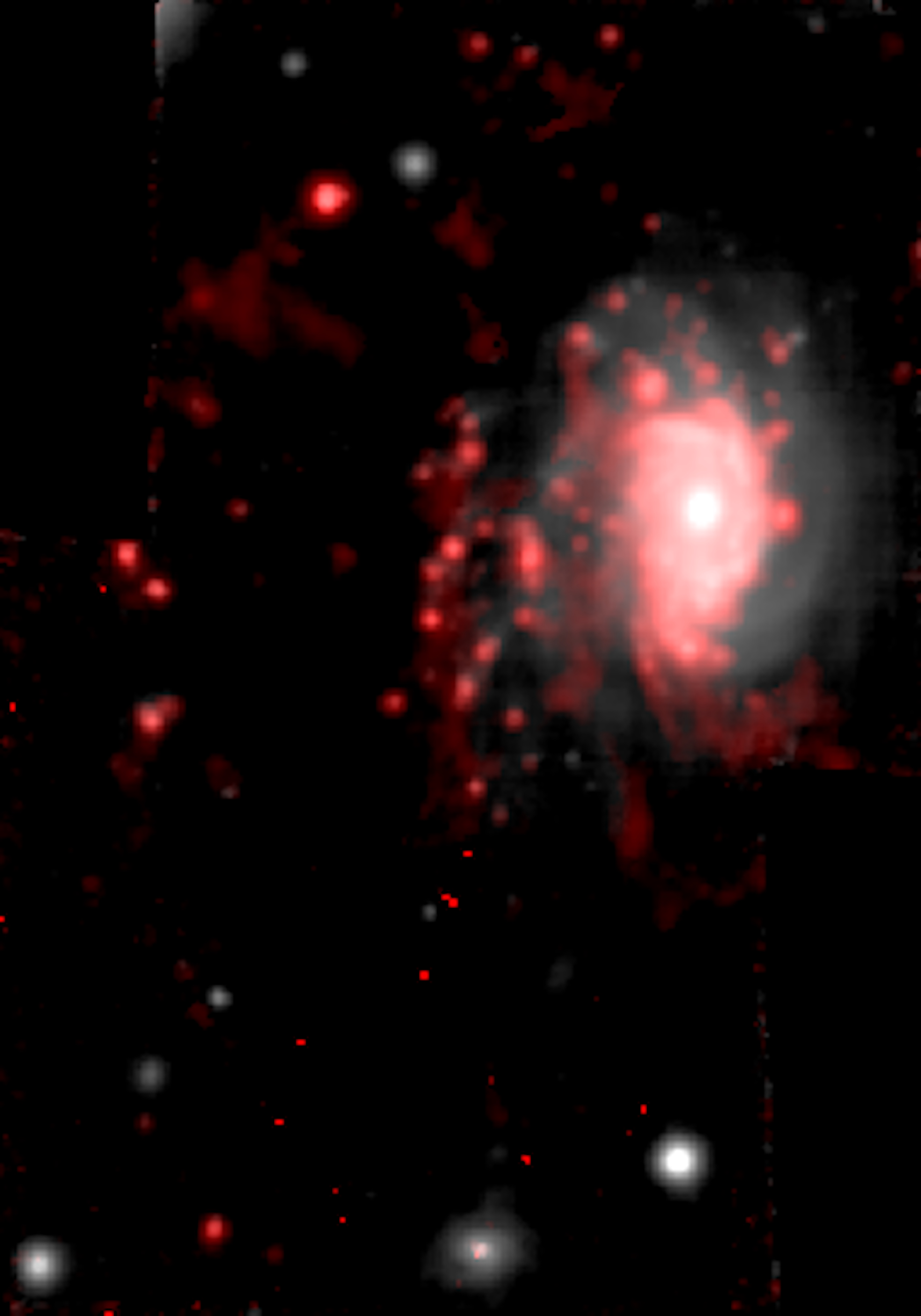 Composite image of jellyfish galaxy JO201 made from combining near ultraviolet (coloured blue), Hα (coloured red) and oxygen (coloured green). Credit: Callum Bellhouse and the GASP collaboration.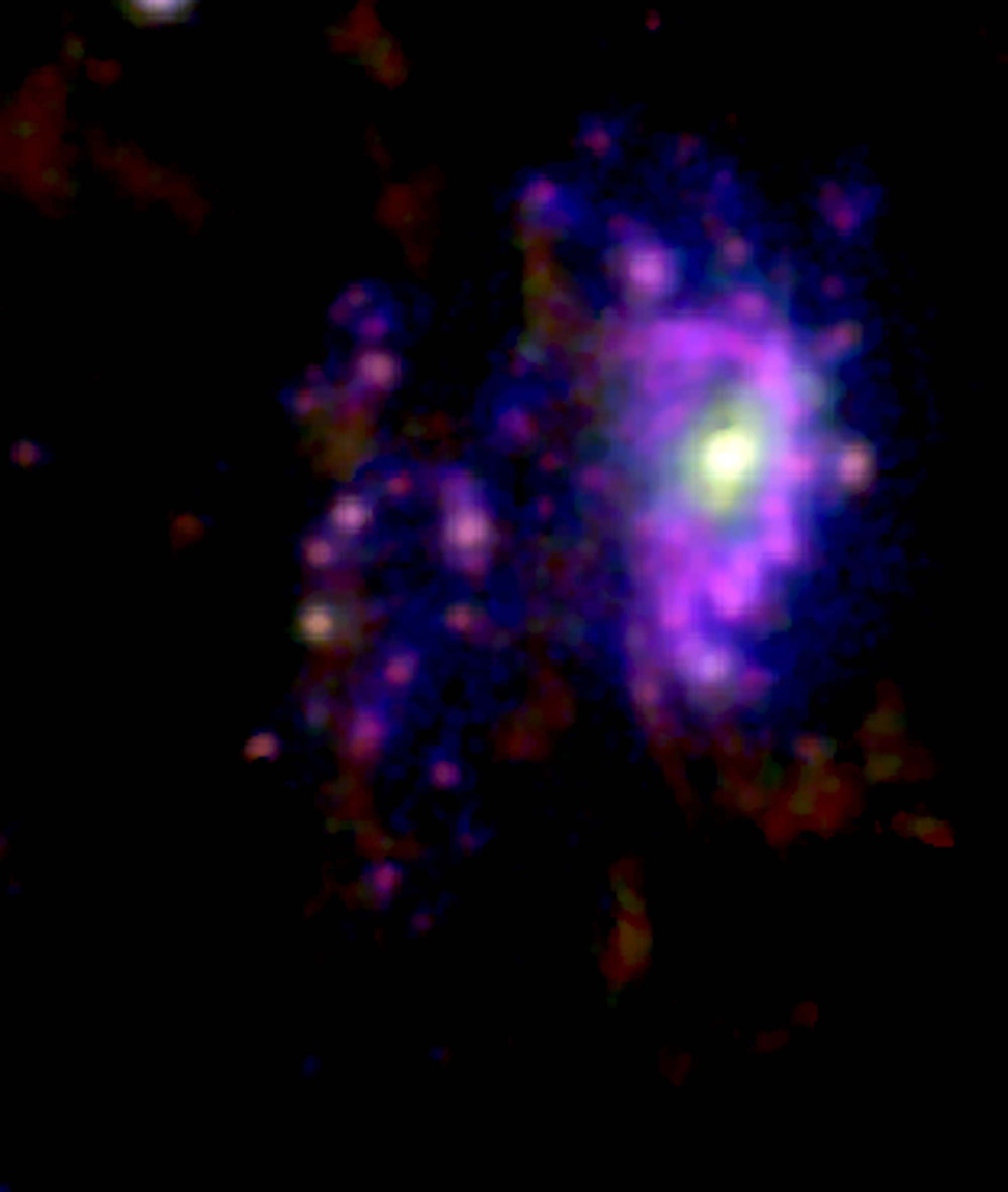 Media contacts
Robert Massey
Royal Astronomical Society
Mob: +44 (0)7802 877699
This email address is being protected from spambots. You need JavaScript enabled to view it.
Anita Heward
Royal Astronomical Society
Mob: +44 (0)7756 034243
This email address is being protected from spambots. You need JavaScript enabled to view it.
Kate Arkless Gray
Royal Astronomical Society
This email address is being protected from spambots. You need JavaScript enabled to view it.
Science contacts
Callum Bellhouse
University of Birmingham
This email address is being protected from spambots. You need JavaScript enabled to view it.
Interview facilities
Media representatives are cordially invited to attend the meeting and can register at no cost. Press room facilities will be available in Faraday Seminar Room 2 for the duration of the conference – from 0900 BST on Monday 1 July to 1500 BST on Thursday 4 July. For free registration for the meeting, please contact the press team via This email address is being protected from spambots. You need JavaScript enabled to view it.
Scientists at the conference are also available for interview via both a radio studio and TV studio at Lancaster University; the Globelynx TV network offers broadcast quality HD video to the world's leading broadcasters and an ISDN line for interviews in a radio booth.
Please book these via the Lancaster University Press Office on +44(0)1524 592612.
Notes for editors
Callum Bellhouse will deliver his talk "Untangling Jellyfish: Studying Ram-Pressure Stripped Galaxies with MUSE and GASP" on Wednesday 3 July at 09:00, at the National Astronomy Meeting in Lancaster. More info can be found on the conference website: nam2019.org
"GASP XVIII: star formation quenching due to AGN feedback in the central region of a jellyfish galaxy" by K. George, B. M. Poggianti, C. Bellhouse, M. Radovich, J. Fritz, R. Paladino, D. Bettoni, Y. Jaffe, A. Moretti, M. Gullieuszik, B. Vulcani, G. Fasano, C. S. Stalin, A. Subramaniam and S. N. Tandon, is published in the Monthly Notices of the Royal Astronomical Society, Volume 487, Issue 3, August 2019, Pages 3102–3111, https://doi.org/10.1093/mnras/stz1443
"GASP. XV. A MUSE View of Extreme Ram-Pressure Stripping along the Line of Sight: Physical properties of the Jellyfish Galaxy JO201" by C. Bellhouse, Y. L. Jaffe, S. L. McGee, B. M. Poggianti, R. Smith, S. Tonnesen, J. Fritz, G. K. T. Hau, M. Gullieuszik, B. Vulcani, G. Fasano, A. Moretti, K. George, D. Bettoni, M. D'Onofrio, A. Omizzolo, Y.-K. Sheen, is published in the Monthly Notices of the Royal Astronomical Society, Volume 485, Issue 1, May 2019, Pages 1157–1170, https://doi.org/10.1093/mnras/stz460
NAM 2019
The RAS National Astronomy Meeting (NAM 2019) is taking place at the University of Lancaster from 30 June to 4 July 2019. It includes the annual meetings of the UK Solar Physics (UKSP) and Magnetosphere Ionosphere Solar-Terrestrial (MIST) groups. The conference is principally sponsored by the Royal Astronomical Society (RAS), the Science and Technology Facilities Council (STFC) and Lancaster University. Full details are visible on the dedicated conference websitehttps://nam2019.org/. Access credentials for embargoed press materials are available on request from the NAM press team via This email address is being protected from spambots. You need JavaScript enabled to view it..
About the Royal Astronomical Society
The Royal Astronomical Society (RAS, www.ras.ac.uk), founded in 1820, encourages and promotes the study of astronomy, solar-system science, geophysics and closely related branches of science. The RAS organises scientific meetings, publishes international research and review journals, recognizes outstanding achievements by the award of medals and prizes, maintains an extensive library, supports education through grants and outreach activities and represents UK astronomy nationally and internationally. Its more than 4,000 members (Fellows), a third based overseas, include scientific researchers in universities, observatories and laboratories as well as historians of astronomy and others.
Twitter: https://twitter.com/royalastrosoc
Facebook: https://facebook.com/royalastrosoc
Instagram: https://instagram.com/royalastrosoc
YouTube: https://www.youtube.com/user/RoyalAstroSoc
About the Science and Technology Facilities Council
The Science and Technology Facilities Council is part of UK Research and Innovation – the UK body which works in partnership with universities, research organisations, businesses, charities, and government to create the best possible environment for research and innovation to flourish. STFC funds and supports research in particle and nuclear physics, astronomy, gravitational research and astrophysics, and space science and also operates a network of five national laboratories as well as supporting UK research at a number of international research facilities including CERN, FERMILAB and the ESO telescopes in Chile. STFC is keeping the UK at the forefront of international science and has a broad science portfolio and works with the academic and industrial communities to share its expertise in materials science, space and ground-based astronomy technologies, laser science, microelectronics, wafer scale manufacturing, particle and nuclear physics, alternative energy production, radio communications and radar.
STFC's Astronomy and Space Science programme provides support for a wide range of facilities, research groups and individuals in order to investigate some of the highest priority questions in astrophysics, cosmology and solar system science. STFC's astronomy and space science programme is delivered through grant funding for research activities, and also through support of technical activities at STFC's UK Astronomy Technology Centre and RAL Space at the Rutherford Appleton Laboratory. STFC also supports UK astronomy through the international European Southern Observatory.
T: https://twitter.com/stfc_matters
About Lancaster University
Lancaster is a research-intensive university which combines world-class research with excellent teaching and high levels of student satisfaction.
Lancaster University is among the best in the UK. Top 10 in all three major national league tables, it is also highly ranked in international league tables such as the QS World Rankings.
Its 6th-place ranking in The Times and The Sunday Times Good University Guide 2019, as well as the award of the coveted University of the Year title for 2018, cements its place as an elite UK university.
For more information please see http://www.lancaster.ac.uk/about-us/rankings-and-reputation/